_ _ _ _ _ _ _ _ _ _
Poe as he looked while living in Philadelphia.


Miniature by John A. McDougall. Ca. 1846. Huntington Library

















"In a dream I once had, I saw a vessel on the sea, at midnight, in a storm. . . now flying uncontroll'd with torn sails and broken spars through the wild sleet and winds and waves of the night. On the deck was a slender, slight, beautiful figure, a dim man, apparently enjoying all the terror, the murk, and the dislocation of which he was the centre and the victim. That figure of my lurid dream might stand for Edgar Poe, his spirit, his fortunes, and his poems — themselves all lurid dreams." — (Walt Whitman, The Washington Star, November 16, 1875.)
I sat down last night to read some of
Edgar Allan Poe's poems
and wound up reading through his entire corpus. For such an important American poet, Poe left us with a remarkably small number of poems: less than a hundred. Perhaps that's also why original editions of his works sell for such great sums of money. Poe's first published book of verse,
Tamerlane and other Poems
, sets the record for a work of American Literature every time a copy is sold.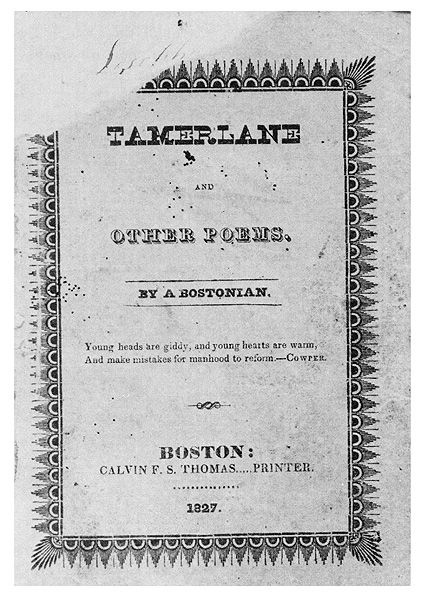 The Free Library's copy of Poe's first book of verse, Tamerlane. We'll be seeing the original edition of this at our first meeting
Still, less than a hundred poems is not too difficult to read in one sitting, but it is a dizzying experience and, for me, Whitman's romantic description of Poe sailing the stormy seas, perfectly captures the experience.
Poe's verse is both captivating and disconcerting. He once defined poetry as "the rhythmical creation of beauty" and it is easy to point out the verses which gleam with the beauty he sought to evoke. However, the rhythmical pyrotechnics of his rhyme and meter also serve to batter the shutters of our contemporary minds. Reading Poe is like a storm raging and I want to both take shelter and revel in the rain and lightning.
As expected, in Poe's poems there are beautiful young women languishing to death. There are haunted mansions brooding over landscapes. There are ominous birds of yore. But there are also magical dreamscapes and ethereal angels charging the air with dazzling light. Poe's verse is accessible, sometimes macabrely inviting, and also abstractedly unworldly. A fitting experience to an author whose reputation is one of genius in a storm.
I'll be posting here throughout the next few months about Poe's works and our impressions as we read them. It's not too late to join us and register for the reading group, which you can do
here
. I have no doubt our reading journey will be a thrilling experience.
Edward G Pettit
The Philly Poe Guy